We don't all have hours upon hours in the middle of a week day to spend hundreds of $$$ getting pampered at the spa. Some of us have to get resourceful.
Or maybe some of us simply just don't want to watch other people get their toe nails clipped and their skin scraped off.
Again, get resourceful.
All those products I'm always blabbing about…. I love them. I use them all the time. And combine them all to create the ultimate spa night.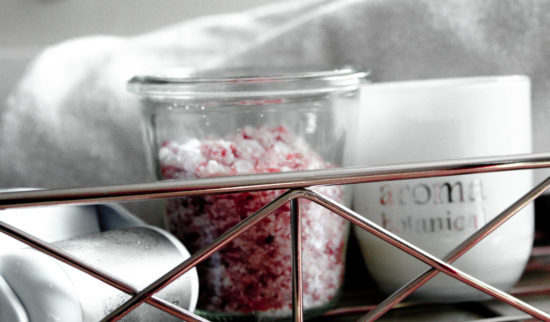 These are my spa rules
No distractions – Wait until the baby is in bed. Boyfriend is out… working… watching the game… whatevs. Don't let anyone make you feel bad for being the diva you are.
Something to sip on – Red wine, anyone!? Or even a cup of hot tea…. but probably red wine.
Reality TV – RHOC, Vanderpump Rules, Southern Charm…. a line up is always nice too. Have an episode or two ready to relax and watch while you do your nails
A delicious snack for post spa time – Cheese and crackers to go with that wine? Order in some sushi. It's your night, girl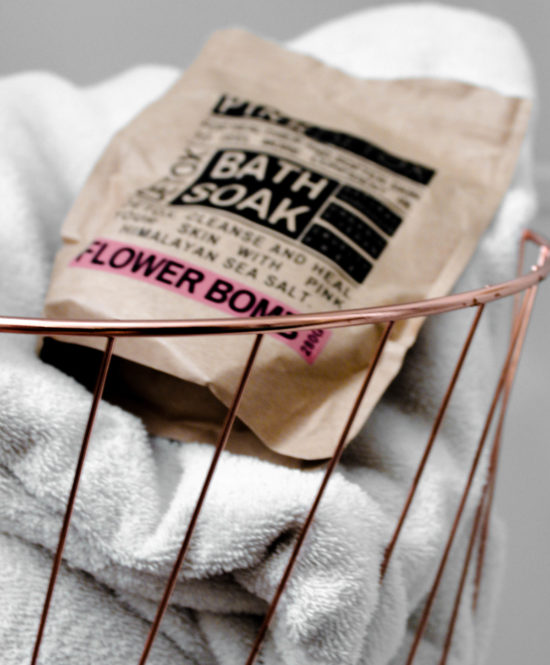 Okay, now, pour yourself a fat glass of wine. Light your favourite candles. Remove your makeup (use coconut oil!!) and wash your face.
Run the bath.
Pink Himalayan Salt Bath Soak – Pour this in the bath. Trust me, you're gonna love it. This bath soak by Pink Detox will help suck out all those toxins you've ingested over the past week, relax your muscles from your intense workout this morning, and soothe any dry skin! (yes, even if you have eczema or psoriasis) You can find out more about the many benefits of Pink Himalayan Salts Here!
Dry Brush! While the bath is running. Use one of those bristle brushes… exfoliating gloves… Whatever tickles your fancy. Do this BEFORE getting in the bath. It's intense and really gets the job done. Use your favourite scrub or nothing at all if you like.
Hop in the tub.
Those pink salts are gonna help soothe your skin after that intense dry brush sesh.
Relax and sip that wine.
Exfoliate your face – I love something easy with no beads like this one from O.R.G. It takes 5 seconds. Spritzy Spritz.
Face Mask – The steam from your bath is enough to open up those pores without having to invest in a facial steamer. Use something that REALLY sucks out any impurities. I love this Volcanic Clay Mask from Soley. Vichy also makes a great purifying clay mask.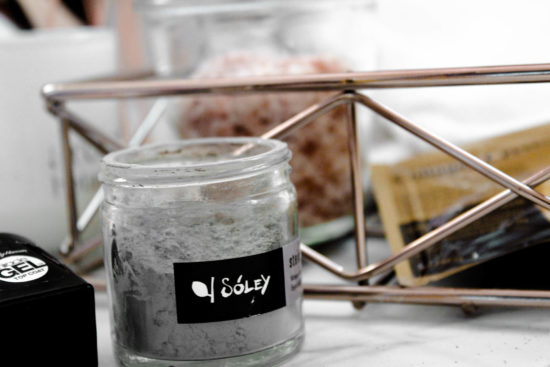 Continue to relax as long as you please. While you're sitting there sipping your wine and your mask is off, it's a great time to apply those eye pads. I'm loving these ones lately. A great price $ and actually work!
Okay, those eye pads are coming off. The bath is cooling down. Time to get out.
now… FULL FACIAL SKIN CARE!
Serum – I love this Vitamin C serum. Again, a great price with amazing results! If you're not a serum user, go here to see why they are so important. And check out more of my faves!
Eye Cream – You're not too young to start using eye cream! Choose one for that delicate skin around your eyes.
Face Oil – I use rosehip oil for my face.  It's anti-aging and really adds an extra boost of moisture without making your face feel greasy. I even have oily skin!
Moisturizer – If it's the evening… use your night cream for that extra hydration while you sleep. And let's be real, you're probably about to have another glass of wine, so your skin could use that extra oomf.
ICE ROLL! – YUSSS! You guys, this is my favourite thing. If told you before how much I love it. You can grab it on amazon and it works wonders. It's anti aging, reduces inflamation and puffiness, and reduces redness! If you're like me, that steam probably has you all rosey.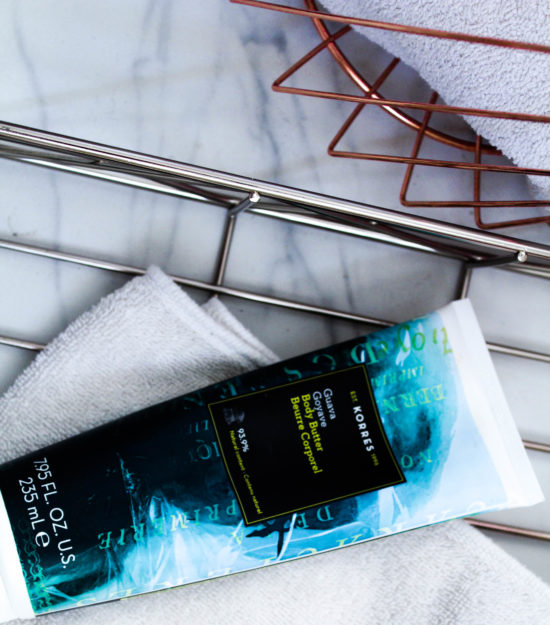 Your Bod
All that dry brushing and those Pink Himalayan Salts were a fantastic start…
Body Oil – Again, oils oils oils. Coconut oil is my favourite body moisturizer. And you should still have some sitting on your bathroom counter from removing your makeup.
Body butter – I like to over do it… clearly. Find something rich and thick to apply over top of the oil. It will help to really seal it in. I love the one from Korres.
♥ ♥ ♥ ♥ ♥
I hope you feel pampered and relaxed now. Wanna take it one step further?
Put on a silky robe. Top up your wine…. or refill your tea (yawn)… And turn on Real Housewives…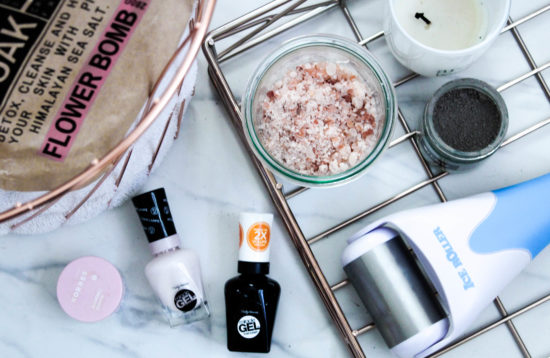 Fingers and Toes
Gloves and Socks – Have you guys ever tried these? Keratin gloves and socks. I got them once in a fabfitfun box and just became obsessed. You can find other brands at drug stores, superstore, wherever. Get into your show, relax for 10 mins with these on. When you take them off, rub the excess moisturizer in.
Hand and foot cream – I love Burts Bees coconut foot cream. For hand cream, use something nourishing but not too thick so it's not in the way of doing your nails.
Mani/Pedi time! – Okay, I'm really not good at doing the whole cuticle thing. It fucking hurts. I leave that up to the aesthetician. Hey, girl. If you can do it, props. But I'll paint my nails just fine and I LOVE these gel polishes from Sally Hansen. They actually work really well and dry within minutes without the light. Highly recommend.
♥ ♥ ♥ ♥ ♥
Now's the time to just indulge in all the Bravo drama. No trying to slip sandals over top of your freshly painted toes and dig out your debit card without ruining that mani. You don't have to worry about running into someone with no makeup on and a shiny face. You have no where to be. You have wine in your hand and fabulous rich people on TV.
MWAH!