I never really though much about taking care of my skin while on the road… until I was about to actually hit the road.
As you probably know by now, skin care is extremely important to me. I've never been one to shy away from over packing on any kind of trip. I like to feel comfortable and taken care of no matter what situation I'm in. It's the one area that I'm admittedly a diva.
While we had already packed up our entire lives (well, really… we sold most of it)… I wanted to keep it cool with what we had in the truck with us for our 3 day journey.
Packing for a toddler was a lot. And then there was the cooler…. we really only had so much room so I really took advantage of the consoles!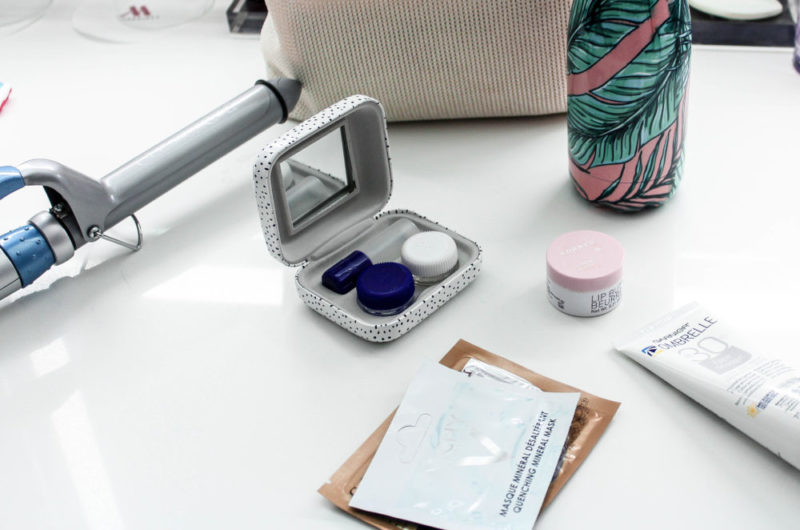 Take a break
From washing your hair – I try to go 2 or 3 days between washes anyways (my hair is insanely oily). But for our trip, because I really had no one to impress (Sorry, Tyler!) I let it go a little longer than usual.
Rest your eyes – I've had so many issues with dry eyes. I hate to wear my glasses all the time, especially at work – I just find them so uncomfortable! Being in a truck for 3 days, not much in sight (I also wasn't driving!), no where important to be that It would bother me to wear my glasses, I gave my eyes a rest from my contacts. But make sure to wear sunnies!!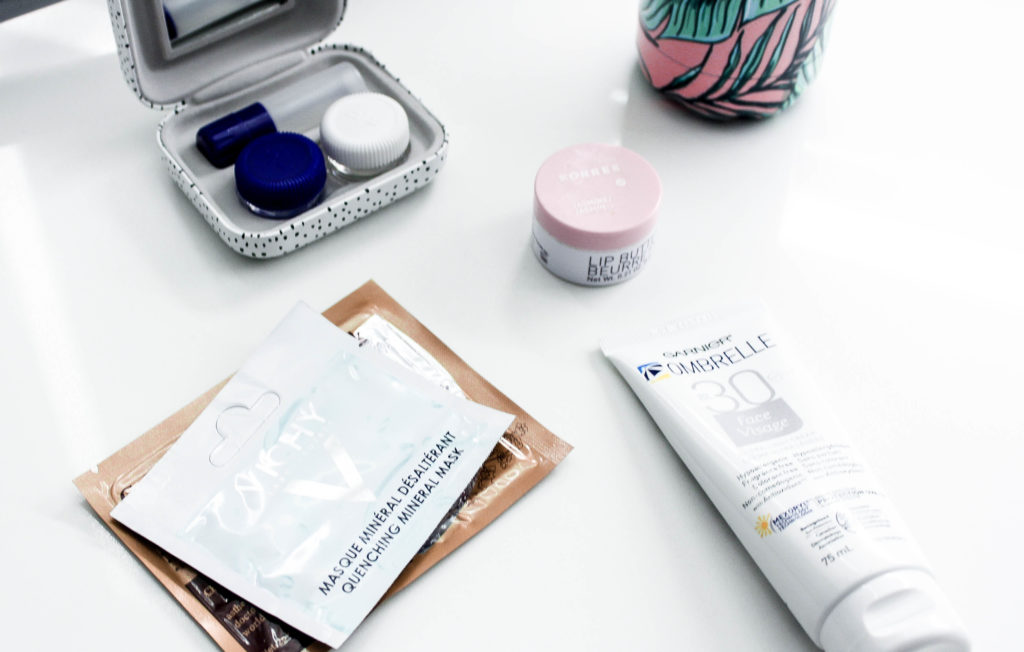 Take advantage of the consoles
Sunscreen – You're sitting in the sun ALL. DAY. LONG. Wear your sunscreen. Even if it's overcast, the suns rays can be harmful. Don't forget this! I love this one from Ombrelle because it doesn't make your skin feel greasy… and I have very oily skin!
SPF your lips – Have you ever burnt your lips in the sun? OUCH! Wear a lip balm with spf. I used  one from Vichy and loved it! At night, I used my favourite lip butter for a little extra moisture. (psst! It's a GREAT price on amazon right now)
Hand lotion – Thought I'd throw this one in here because dry hands REALLY bother me. I kept a hand salve in one of the compartments. Every time I'd open it to grab my sunnies or lip balm, there it was, and I'd remember to apply it.
Sunnies! – Seriously, eye care is so important.
H2o – It can be so easy to forget to drink your water. Bring your own water bottle or grab one at any stop you make. But don't forget to drink up. Sitting all day can be hard on your body. And again, the sun. And sipping on a little H2O all day, staying hydrated, will keep you from grabbing a diet coke at your gas station breaks.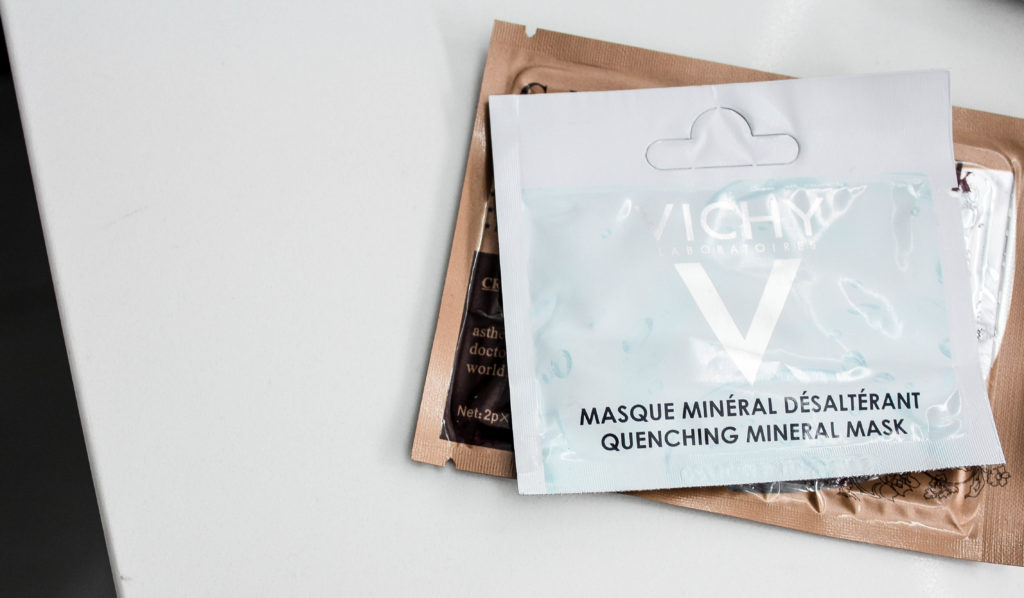 It's okay to pamper yourself
We don't all need to be the girl who can "rough" it.
Eye pads – You've come a long way. A day or two or more in a car. Indulge! Get to that small town hotel, run the water hot for the 7 minutes it allows, keep your hair in that bun to let the oils sink in… And when you're done, drink your shitty rose out of those plastic cups. Sit back… not in a robe because your hotel probably doesn't have any… and let those eye pads sit on your face until they dry up and slip off. You've been covered in sunscreen and sat in the sun for how many hours now? Plump your skin and fix those under eye bags. What I love about these ones is they come in individual packs so you can keep one in your bag (or even wallet!) without taking up any space.
Face mask – Top up your plastic cup with more rose. Your eye pads have dried up. You've earned some pampering and your skin could really use it – no matter how many times you applied SPF today. Vichy makes a great new line of masks (I love the charcoal one! ) and BONUS! You can buy single packages to try. I brought along the hydrating one. Again, they don't take up any space to pack. Seriously. Keep one in your wallet. See, you're not a diva.
♥ ♥ ♥ ♥ ♥
Now that I'm in my final destination… it's SO nice drinking wine out of a real glass. AND my favourite wine glass made it across the country without breaking! If that's not something to cheers about, I don't know what is…
Any travel skin care tips?? Leave below!!
XO