Hi Everyone! Your feedback from my last post, introducing Tyler to the blog has been great! Thank you all so much. I'm really excited to have more of him on here…. We have a couple things in the works.
The rest of our Sunday was spent having a massive brunch with some family and relaxing. I thought I would share it with you guys because it was just too good not to!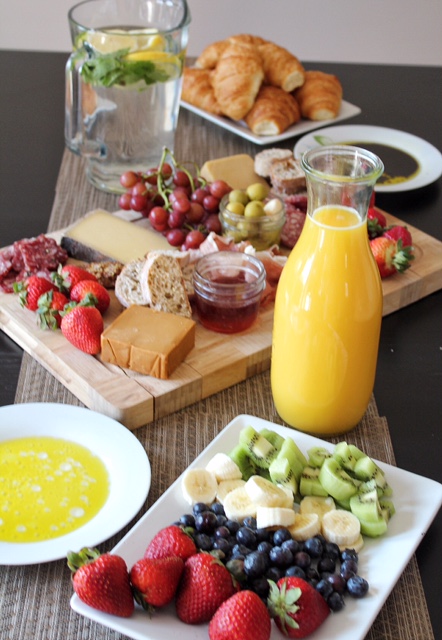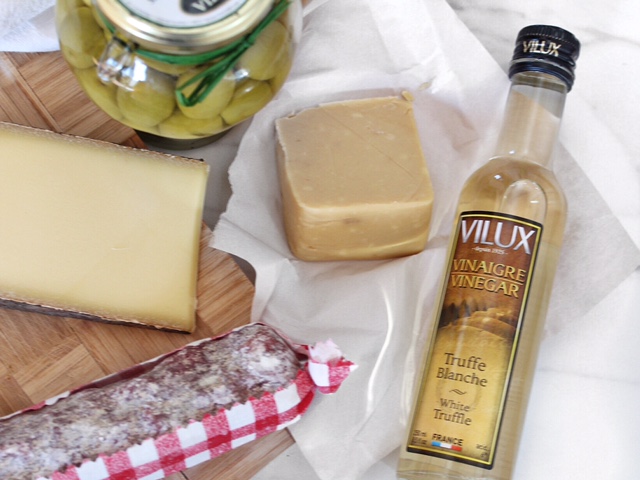 My mom and I put together a little brunch for the dads… Tyler, my dad, and my little brother who just had his first Fathers Day. We kept it pretty simple – Instead of doing a bunch of cooking, we just did one big spread of meat and cheese, a fruit plate and some croissants.
I love to just pick at things. It's my favourite way to eat rather than having one big meal. You get more variety this way and it becomes more of a social meal as well.
Also…. CHEESE. I mean… there's cheese… ♥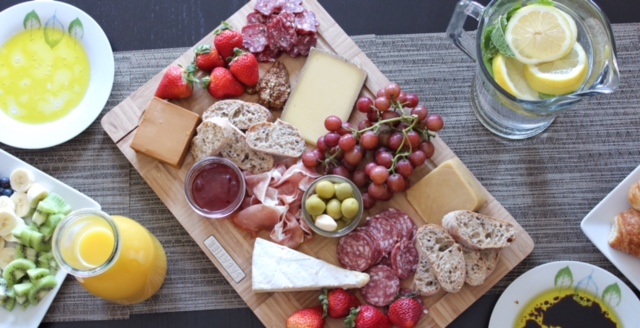 Here is what our brunch consisted of:
THE MEAT/CHEESE PLATE:
4 types of cheese – a brie, carmelized onion cheddar, an aged sharper cheddar, and a kind of dessert cheese (kicking myself for forgetting the name…) but it tasted almost like caramel. My point is though to have a variety. Something soft, something hard, something more sweet, something a little strong. We have this adorable little cheese shop here called Cultured Fine Cheese and I can't get enough of it.
3 types of meat – prosciutto, a fig salami, and a dried white wine salami (this one was AMAZING!) This one was from another specialty shop here called The Gourmet.
A whole wheat baguette
A spicy pomegranate habanero jelly 
Dijon Mustard
Garlic and rosemarry olives (Also from Cultured Fine Cheese)
a bunch of grapes and a few strawberries for colour 🙂
The Extras
Dip 1 – a simple olive oil and balsamic vinegar for the bread
Dip 2 – olive oil and TRUFFLE vinegar. I died. This stuff is so good. Truffle is one of my favourite things. This vinegar is also from The Gourmet here in Whitehorse (the bottle is pictured above). If you like truffle, you HAVE to try this. You just need a tiny bit drizzled in some olive oil.
Croissants (we were feeling a little Euro.)
A fruit plate… because it was still brunch… I don't think it got touched though
The Beverages
Mint lemon water (my fav)
COFFEE
Orange Juice (minus the champagne…)
We went alcohol free for brunch (weird for us, I know) But I'll be sharing more about this soon!
It had been a while since Tyler and I had eaten something so heavy like this… but it was worth every bite! This is the thing though…. 
If you're going to indulge…make it worth it. Indulge with the best ingredients and enjoy and savour every bite.
I am not saying this is the healthiest brunch… but I truly believe you will enjoy quality ingredients over overly processed chemicals. Usually after eating cheese I feel heavy and gross. Surprisingly I didn't at all after brunch…
I mean, holy eff was I ever full. But still felt great. And HALF of that board fed 5 adults… and a toddler who eats like an athlete. QUALITY guys. It's all about quality.
…we're still trying to finish the left overs.
What are your favourites for a charcuterie or cheese plate? Any jellies or pates I've gotta try??? Let me know in the comments blow!
XO