I'm all for taking a "junk food" staple and making it as healthy as possible.
Now…I'm not saying these nachos are "healthy", but what I AM saying is they're a great twist on a classic and a healthier alternative to sports bar style nachos.
I want to take full credit for this recipe but I have to admit, it's all Tyler. He's made these a couple times now for movie nights and what-not and I just couldn't keep these from you guys.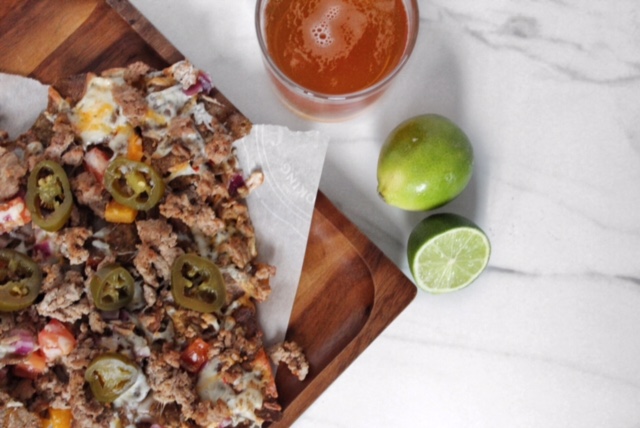 I've been trying to find a link for you guys for these chips that we use but I can't seem to find the exact ones even on the brands website. We like the Que Pasa tortilla chips. They have tons of options – slated, unsalted, blue corn, black bean, quinoa chia…. But the ones we like to use for these are the Chipotle Kale ones.  
You can get them at Superstore and Independent if you're in Canada. And it looks like whole foods carries them as well? I'm sure they're everywhere but I just can't get the exact link. If someone finds one please share!

So here's what you'll need:
1 bag Que Pasa Kale Chipotle tortilla chips
2.5 cups shredded cheese (we like habanero for extra spice )
1/2 cup red onion, chopped
1/2 cup bell peppers, chopped
1/2 cup tomatoes, chopped
1/2 cup sliced black olives
1 tbsp cajun seasoning
1 tbsp water
1 package ground turkey
Instructions:
♥ In a frying pan, sautéed the ground turkey with the tbsp water and cajun seasoning until cooked.
♥ On a baking sheet lined with parchment paper: spread out the chips evenly and top with half the cheese and all the onion, peppers, tomatoes, and olives. When the turkey is cooked through, add that on top and top with the remaining cheese.
♥ Bake in the oven at 350 for 5 minutes, and then broil for 2 min
Garnish with Jalapeños!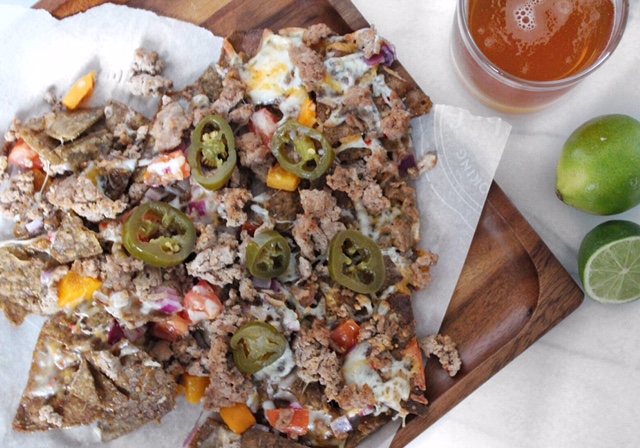 EASY!
The only really bad thing on them is the excessive amount of cheese… but what the hell is the point of nachos without extra cheese?
These are SO hearty and very filling so the platter goes a long way!
I hope you guys enjoy! Happy Monday!