Who's decorated for Christmas already??
I have a strict "no Xmas decorations before Remembrance Day" rule. And I guess really, I've never put up anything until the first weekend of December. (I'm definitely starting a little early this year) BUT It is still winter. And I love to decorate for the seasons, not the holidays.
Everyone is always all about "fall decor" But what about winter?
Am I making any sense?
What I mean is, you don't have to decorate with tacky colourful lights and creepy Santa dolls to experience the November/December months. I like the FEEL of winter.
Think: Fuzzy. Lush. Romantic. Simple. Warm. Elegant. 
I still do the Christmas thing in terms of a Xmas tree and stockings. A few little gold sparkly things. But the rest is just "winter" vibes.
I've rounded up a few of my favourite touches to make your home feely cozy this winter. Remember: you're about to start spending a helluva lot more time at home. Make it your sanctuary.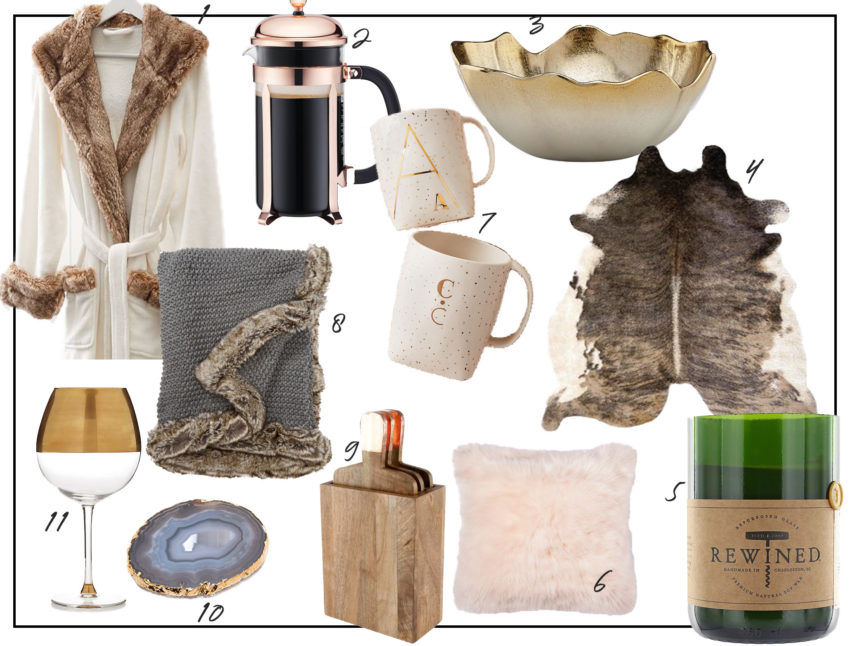 ONE.Faux Fur Robe • Pottery Barn • $103 //TWO.Bodum Classic Chambord Copper French Press• Bodum • $49.99 //THREE. Lenox Alvarado Nut Bowl • Lenox • $19.99 //FOUR. Loloi Grand Canyon Area Rug • Loloi • $242.10 //FIVE. Wine Under the Tree Candle (11 OZ) • $41.99 //SIX.Pink Faux Fur Euro Pillow • Threshold • $24.49 //SEVEN. Gilded Shapes Monogram Mug • Anthropologie • $7.50 //EIGHT. Faux Fur Border Throw • Nordstrom • $59.97 //NINE. Mango Wood Serving Boards & Holder • Thirstystone • $39.90 //TEN. RABLABS Lumino Gilded Coasters • Rab Labs //ELEVEN. Marc Blackwell Northern Hemisphere Gold Red Wine Glass • $75
Clearly, one of my favourite touches is a furry throw or pillow. Faux fur on a robe, anyone?  And definitely a rug. You've gotta keep things warm. Think layers and textures. It's such an easy way to dress up your home for the holidays and not have to put it away after the New Year.
Another Winter Favourite: Pine. Seriously, if you don't have a pine candle in your house during the winter, what are you doing with your life?
This one, called "Wine Under the Tree" by Rewined Candles is my absolute favourite.
And one last winter must….
A cozy playlist. Don't get me wrong, I get all giddy when I hear "Santa Baby". But I keep my winter playlists cozy, not Xmas-y. Something that leaves you wanting to sit by a fire with an old fashioned.
I'll be creating some playlists for you guys too so stay tuned…
Okay, now I'm cozy-ing up in my fuzzy robe, under a faux fur blanket with a glass of wine and catching up on Riverdale. Who else is watching??
XOXO