The word "diet" used to come from a very negative place. I love seeing how this word has evolved and is now being heard more as "the way I eat" rather than "what I don't eat" (mostly to lose weight)
You can be a size  2 or a 16 – it doesn't mean you're always making the healthiest choices. Maybe you don't want to lose weight. And maybe you are one of the lucky ones who's body can handle gluten and dairy just fine. Bring on the bread! Maybe you just haven't been feeling your best. Your skin could be breaking out a little. You've been feeling more tired than usual. You just need a little boost.
I firmly believe in allowing yourself to indulge (in moderation!). Don't restrict yourself! But I also firmly believe that when it comes to choosing what we consume, we need to consider fuelling our bodies and providing them with the nutrients necessary to be their best.
I did a whole post on this way back that you can read here.
But for now I want to share with you guys my tips and tricks for keeping my body on track without ever really having to think about it. Create habits without "dieting". You can stay healthy without weight loss in mind.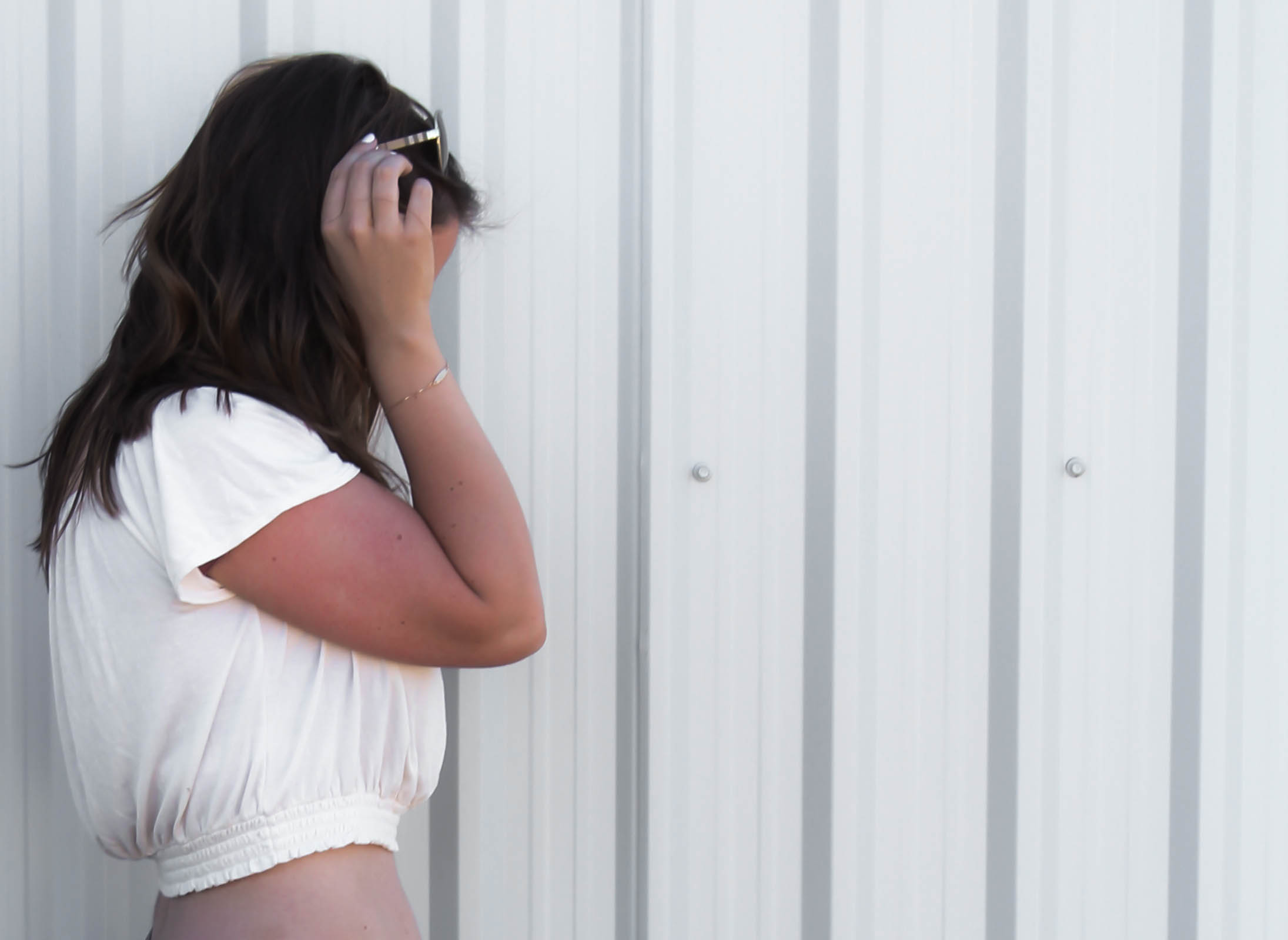 Let's get the DON'TS out of the way
Ick. I hate to say don't. Let's say, avoid? Avoid. It's a bit better anyways.
Soda – Guys. It's chemicals. Loaded with sugar. Empty calories at it's finest. And if you go with diet… aspartame. And the horrible headaches that come along with it. If you're craving a little fizz, go for some club soda with a squeeze of fresh lime.
White carbs – I'm not saying ALL the time. Live a little. Just be aware that white carbs (White bread (ew!), Potatoes, etc) have no nutritional value. If your body can handle gluten, people everywhere are cursing you. So enjoy it. Just choose something with a little nutritional value. Flax seed bread or bread with chia seeds, anything like that will also help keep you full longer. Switch up the potatoes for sweet potatoes or brown rice!
Skim Milk – Again, if your body can handle dairy, do you know how lucky you are? I can handle a small amount and usually choose full fat in my coffee. Skim milk has more sugar than full fat. Just choose the real thing. If you're looking for a change, try coconut or almond milk in your coffee. Same goes for "light" cheese. Just eat the real shit. Avoid the extra "ingredients" that are processed anyways.
Processed foods – When you're grocery shopping, just try to avoid shopping in the isles as much as possible. I like to load up in the produce section and try to keep what I refer to as "cupboard foods" to the minimum. Some crackers, rice, quinoa, brown rice pasta… chips and salsa 😉 If those extra processed snacks aren't there, you won't eat them. You'll grab a banana or carrots and hummus instead.
---
Yay! The ADD MORE of's…
Greens! – Duh. You know this. But seriously, load up. I like to always make a salad with dinner and eat that part first. It helps to fill you up on the right things and prevents you from grabbing a second helping of any starchy carbs. You can do this at a restaurant too. Order a small salad as an appetizer.  You get your greens and are less likely to over indulge in those oversized restaurant portions (leftovers for lunch tomorrow!)
Tea – Surprise yourself. Every now and then while you're in the Starbucks drive thru order a green tea instead. Something with less caffeine and more antioxidants. If you really can't swap out that coffee, that's okay too. Just add a cup of tea to your day somewhere. Anywhere really. Maybe green tea to get over that 2 O'clock slump. Chamomile to relax before bed. Peppermint for when you ate your appetizer salad AND the entire plate of over-sized restaurant steak dinner.
One more cup of water – Are you sick of me telling you to stay hydrated yet? Just throw in ONE. MORE. CUP. Make sipping on water all day a habit.
Healthy fats – Throw some almond butter in your smoothie or oat meal…. or just eat a spoonful cuz I know you want to. Add some avocado to your salad or wrap. Or again, with a spoon… and lots of pepper…. gah! So good! Incorporating healthy fats into your diet will help to keep you full longer. And are great for your skin and hair 😉
---

In Your Kitchen
Breakfast! – Like your mom always told you, breakfast is the most important meal of the day. Have something with fiber and healthy fats to keep you from snacking all day and making unhealthy choices at lunch. Check out my #Fab4Smoothie for an easy on-the-go stay-full-longer recipe! Or gluten-free banana oat pancakes for those lazy Sundays.
Produce Produce Produce – You can't go wrong loading up on fresh fruits and veggies. Have fun at the farmers market or if you can, spend a Sunday afternoon at a local farm picking your own veggies. You'll be more excited to cook with them and less likely to let them go to waste.
Cook at home – As much as you can! Choose an evening to food prep if you're someone who's always on the go. Keep veggies cut up to throw together for salads, overnight oats, energy balls, whatever you fancy to keep you from grabbing a breakfast sandwich on your way to work. AND I'm not saying every meal has to be gluten aware and dairy free and plant based. Just cook at home. Make gravy for your roast chicken even. Just know exactly what is going in to your food and use real ingredients.
Bake – Yes! You can eat baked goods and not feel ashamed after scrolling through all those vegan Instagram bloggers. Again, even cookies baked at home are better than what you'll buy at the store. Know what's going in them and how much.
Salad dressings – Make your own. Dressings and sauces are one of those sneaky places that all those fake ingredients (and CALORIES!) can hide. They can be super fun to make and easy easy easy. I love this Avocado Lemon one (those healthy fats). It was a sauce used on Sweet Potato Lentil Cakes by Blissful Basil and I started throwing it on all my salads. You've gotta check out those Sweet Potato cakes though! Seriously.
---

Because You know I like a Night Cap
Obviously, avoiding alcohol all together is the healthiest choice to make here. But I'm not gonna let myself feel bad for the glass of wine I enjoy with dinner.
Rules of thumb:
No mix with juices or pop. Avoid adding any extra sugar to your drinks. Opt for soda with fresh lime instead. Ugh, I know, Vodka Soda. No one actually likes it. But that's the route to go if you wanna party like you're 19…. avoid the deathly hangover as much as possible
Cut back on the beer – After being pregnant and not drinking for over a year, I've had a hard time drinking beer. I'm now more aware of how horrible I feel within even a few sips. Just full and bloat-y. I'll have the odd one here and there… I love a brown ale or a stout. But not my drink of choice for the night.
My go-to's
Wine! – Ah! A dry, heavy cab please!  White wine is more sugar-y but I do love a crisp sauvignon blanc on a hot day.
Old fashioned – The only mix is a couple pinches of sugar and some bitters. A little orange zest. It's stiff and sippable and really hits the spot on a cozy fall evening. Check out my recipe for this one made with bourbon infused maple syrup. MMM!
Margarita – With FRESH lime! This spicy grapefruit marg has got me hooked! Get yourself a citrus juicer. It's super easy and theres no added sugar from those margarita mixes or bar lime. And remember, just a HALF rim of coarse sea salt.
Martini – Gin. Dirty.