Don't you love how your agenda automatically schedules a date night in for you once a year? It's like a stat holiday for your personal life.
I get it… it's a "Hallmark Holiday"… an opportunity for stores to make millions off of chocolate and flowers and cards and blah blah blah. And of course, I expect to be treated like a queen every day of the year and not just the 14th of February…. That's why I've trained my 2 year old to remind her father on a regular basis to buy me flowers.
… it works.
But it's fun to just dress up a little extra for date night. As I mention in my last post, mine and Tyler's tradition has always been to stay in and cook a late night dinner together. But even so, I've always loved to dress a little cuter than our typical date night. Throw on some lipstick and a sexy outfit. Because, why not?
This year we are breaking that tradition and going out. Back in the day, we worked opposite schedules and it seemed like we were NEVER home together.. especially in the evenings. NOW, we're always home. Like… never leave the house. We cook dinner almost every night. So we're changing it up.
Anywhooo… No matter the outfit – I wanted to prep you guys for your date night! It's all in the details. A good blowout. The right lipstick. A sexy scent.
…Trust me… he won't mind that you kept him waiting…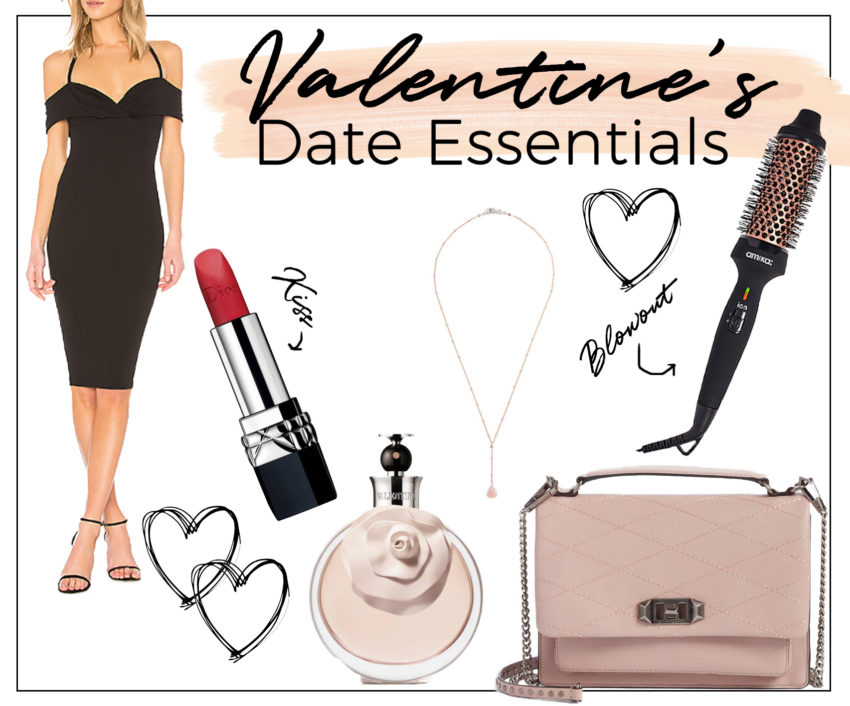 ||Rose GoldOpal Necklace|| Rebecca Minkoff Crossbody Bag||Valentino Valentina Eau de Parfum||Dior Couture Color Rouge Dior Lipstick||Off Shoulder Dress||Blowout Babe Thermal Brush||
---
♥ The Blowout Brush ♥
A blowout is the key to looking like a smoke show. This brush is the PERFECT tool for an at home blowout in 15 minutes.
♥ A Red Lip ♥
A little festive for Valentine's day without being obvious. What IS obvious? That lipstick will be getting ruined after dinner
♥ The Perfect Scent ♥
Fragrance is a personal choice. Wear something romantic and sensual. Not overly powerful. And if date night is with your boyfriend or someone you've been dating for a while… spritz something you don't wear everyday
♥ A Cute Bag ♥
Because it's all in the accessories. Keep your outfit hot and your accessories flirty
♥ Dainty Jewelry ♥
Always feminine. Flirty. Romantic. Simple.
---
Seriously though you guys… that blow out brush. STAT!
Eventually when I work up the courage to start doing video's for you, I'll do a video. But until then, just trust me, it's amazing.
What are your plans for valentine's day!? Leave your fave date night ideas in the comments!